♓
---
1702
King William III of England dies of pneumonia which he had contracted after breaking a collarbone following a fall from his horse that had stumbled in a mole hole.
His sister-in-law became Queen Anne of England, Scotland, and Ireland.
1856
Painter Colin Campbell Cooper born in Philadelphia, Pennsylvania.
Cooper was an impressionist painter who did architectural paintings, landmarks, natural landscapes, portraits, florals, and interiors.
1859


Writer Kenneth Grahame (Wind in the Willows) born in Scotland.

1865
Type designer Frederic Goudy born in Bloomington, Illinois.
Goudy designed over 120 typefaces such as Copperplate Gothic and Goudy Old Style.
1931
Author John McPhee born in Princeton, New Jersey.
McPhee has a long association with the The New Yorker magazine where writings originally appeared.
1937
Singer and author Richard Fariña (Been Down So Long Seems Like Up to Me) born in Brooklyn) New York.
1947
Founder of Project Gutenberg, Michael S. Hart born in Tacoma, Washington.
1953
Hall of Fame outfielder Jim Rice born in Anderson, South Carolina.
1966
Nelson's Pillar in Dublin, Ireland, destroyed by a bomb planted to mark the 50th anniversary of the Easter Rising.
1971
The Fight of the Century between Joe Frazier and Muhammad Ali for the Heavyweight Championship of the World.
Frazier won in a 15 round via unanimous decision.
Proverb:
---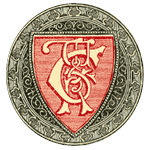 Today from Chamber's Book of Days