♓
---


Pi Day derives from the three-digit approximation of "pi" - 3.14. It is usually celebrated at 1:59 (in recognition of the six-digit approximation: 3.14159).

1757
✍ Admiral Sir John Byng is executed by firing squad aboard HMS Monarch for breach of the Articles of War.
He knelt on a cushion before the firing squad on the quarter deck and then dropped his hankie as a signal to fire.
1863
Illinois Central Railroad engineer, Casey Jones born in Jackson, Tennessee.
1879
Physicist Albert Einstein born Ulm, Bavaria.

1887
Sylvia Beach, the founder of Shakespeare and Company, is born in her father's parsonage in Baltimore.

1916
Writer Horton Foote born in Wharton, Texas.

1920
Cartoonist Hank Ketcham (Dennis the Menace) born in Seattle, Washington.
1923
Photographer Diane Arbus born in New York.

1933
Actor Michael Caine (The Man Who Would Be King) born in London, England.
Record producer, conductor, arranger, composer, television producer, film producer, instrumentalist, and jazz trumpeter,Quincy Jones born in Chicago, Illinois.
1939
John Steinbeck's The Grapes of Wrath published.

1952
Former Talking Head David Byrne born in Dumbarton, Scotland.

1989
American naturalist novelist, 'Cactus' Ed Abbey dies in Oracle, Arizona.

---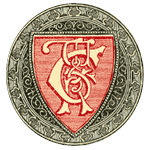 Today from Chamber's Book of Days