♍
---
1886
Poet H.D. (Hilda Doolittle) born in Bethlehem, Pennsylvania.
1929
Golfer Arnold Palmer born in Latrobe, Pennsylvania.
1934
Reporter and host of CBS Sunday Morning Charles Kuralt born in Wilmington, North Carolina.

Homerun champion Roger Maris born in Hibbing, Minnesota.

1935
Poet Mary Oliver born in Maple Heights, Ohio.
1941
Paleontologist, biologist, and author, Stephen Jay Gould born in Bayside, New York.
1960



Mickey Mantle hit what is thought to be the longest home run in major league baseball, an estimated 643 feet.
1972
The United States loses for the first time in an international basketball game against the Soviet Union at the 1972 Summer Olympics in Munich, Germany.
---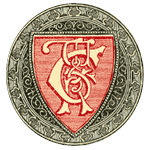 Today from Chamber's Book of Days