♎
Quote:
---
1492



Christopher Columbus, with a crew of 90 and three ships, the Nina, the Pinta and the Santa Maria, landed on Guanahani Island in the Bahamas.

1773
The first insane asylum opens in America.
1810
Bavarian Crown Prince Ludwig marries Princess Therese of Saxony-Hildburghausen.
The public was invited.
Thus becoming an annual celebration that later became known as Oktoberfest.

1875
Writer & occult figure Aleister Crowley born in Royal Leamington Spa, Warwickshire, England.
Popularly known as "The Great Beast" or "The Wickedest Man in the World" because of his fascination with sex, magic & degradation, drug-taking & hedonism.

1892
The Pledge of Allegiance recited by students in many public schools, as part of a celebration marking the 400th anniversary of Columbus's voyage.
1901
President Theodore Roosevelt officially renames the "Executive Mansion" to the White House.
1932
Comedian, activist Dick Gregory born in St Louis, Missouri.

1960
Soviet premier Nikita Khrushchev pounded a shoe on his desk at a UN General Assembly.

1968



The XIX Summer Olympics begin in Mexico City.
Proverb:
---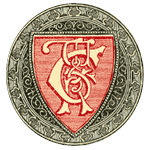 Today from Chamber's Book of Days