♏
Quote:
---
1718
British politician, inventor, explorer, John Montague (4th Earl of Sandwich), born.
Supposedly, the sandwich is named for him because he often spent excessive amounts of time gambling and he didn't want to get up from the gambling table, so he told his servants to bring him meat sandwiched in between two slices of bread.
1794
Poet William Cullen Bryant (Thanatopis) born in Cummington, Massachusetts.
1883
"Black Bart the PO8" gets away with his last stagecoach robbery.
1901
Author/statesman André Malraux (Man's Fate) born in Paris.

1954
Japanese film Godzilla released to universal acclaim.
1956



The Wizard of Oz is shown on TV for the first time.
1957
The Soviet Union launches Sputnik 2 with the first animal to enter orbit, a stray dog from the streets of Moscow named Laika.
Proverb:
---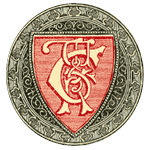 Today from Chamber's Book of Days
---