♏
Quote:
---
1820
An 80-ton sperm whale attacks and sinks a Nantucket whaling ship called the Essex.
Herman Melville's novel Moby-Dick was inspired by this story.
1866



The rotary crank bicycle is patented, by Pierre Lallemont, in Paris.
These machines incorporated the crank directly to the front wheel.

1900
Cartoonist Chester Gould (Dick Tracy) born in Pawnee, Oklahoma.

1920
Photographer Marrianne Breslauer born in Berlin.

1925
Politician Robert F. Kennedy born in Brookline, Massachusetts.
1936
Novelist Don DeLillo (Libra) born in New York City.
1956
Actress Bo Derek (10) born in Long Beach, California.

1959
Actress Sean Young (Blade Runner) born in Louisville, KY.

Proverb:
---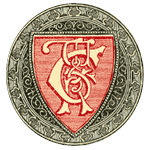 Today from Chamber's Book of Days