---
♑
---
1166
John, King of England born.
John was the youngest son King Henry II of England and Duchess Eleanor of Aquitaine.
1818
Franz Gruber of Oberndorf, Germany composed the music for Silent Night to words written by Josef Mohr.
1822
Poet Matthew Arnold (Dover Beach) born in Laleham, England.
1888
Film director Michael Curtiz (Casablanca) born in Budapest, Hungary.
1902
Poet Langston Hughes born in Joplin, Missouri.
1903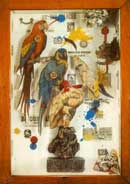 Collage artist Joseph Cornell born in Nyack, New York.
1905
Aviator Howard Hughes born in Humble, Texas.
1914
An unofficialChristmas truce breaks out along the Western Front during World War I.
1922
Film star Ava Gardner born in Brogden, North Carolina.
1942
The first V-1 buzz bomb flew from Peenemonde, Germany.
---
---